Special Natts Process
Diamonds often have dark inclusions present, usually consisting of graphite or sulphide, or other iron-containing minerals. These dark inclusions become present in the diamond during its natural growth formation. For obvious aesthetic reasons, diamonds with visible dark inclusions are less desirable than those with light or transparent inclusions.
In special natts process,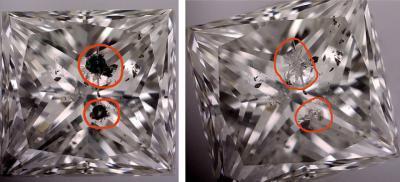 The diamond undergoes a vigorous process inside our process chamber over a period of 18 hours and 36 hours which removes black carbon spots and other inclusions are significantly removed and hence the overall brilliance, fire and lustre of the diamonds is enhanced.
We remove these black spots to make them more attractive, shiny and valuable with increase in face value.
Our care and concern will be a personal signature on the customer satisfaction and relation, too.
Above is the diagram for diamonds which undergo specialised natts process at our lab.
Advantages
Removes natts & other intrusions and hence uplifting diamonds grade and the price.
To make the planting much easier and comfortable, we remove the upper natts of your Diamonds, through this technology.
For submitting your diamonds for Specialized natts process, you can drop down at any of branch offices and our representatives will collect the parcel and the processed parcel would be ready the very next day of the submission.